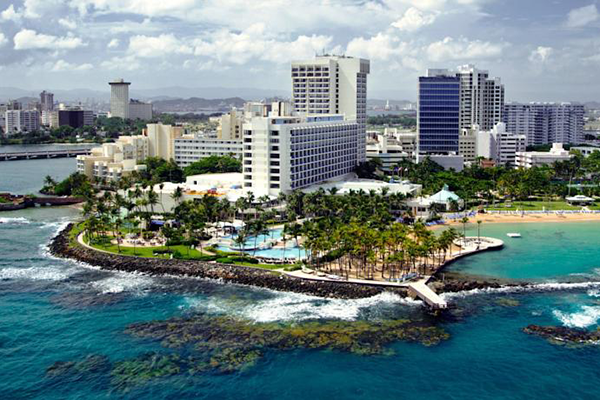 Description
Caribe Hilton San Juan
One of the most luxurious resorts in Puerto Rico, the Caribe Hilton and the Condado Lagoon Villas is set on an exclusive peninsula, made up of 17 acres of lush tropical gardens, this resort is ideally situated between the historic old San Juan and the exciting Condado area, offering a secluded beach, lavish accommodations and amenities tailored to families, couples and business travelers alike.
Just 15 minutes from Luis Munoz International Airport in San Juan, the resort has 646 beautifully appointed guest rooms and suites and 264 luxury Condado Lagoon Villas featuring fabulous ocean or garden views for you to enjoy panoramic views of the Atlantic Ocean or verdant tropical gardens.
The property offers beautiful oceanfront swimming pools, whirlpools and hammocks next to the secluded beach for relaxation and privacy. The full-service Olas Spa offers a wide range of relaxing body treatments, and the resort is home to an extensive array of boutiques. There is even a peaceful bird sanctuary. In addition the resort offers extensive meeting facilities.
Essential Information
---
The Caribe Hilton San Juan is located approximately 15 minutes from Luis Munoz Marin International Airport.
WiFi is available at the hotel. Please note charges may apply.
Each room contains a coffeemaker.
Starbucks coffee is available at the hotel.
Highlights
---
Enjoy a quiet dip in the hotel's swimming pool, which is the perfect place to cool down in the Puerto Rico heat.
Book into the Olas Spa and prepare to feel your every care and worry swiftly melt away.
The Caribe Hilton boasts a range of delectable culinary options, from Morton's Steakhouse to Atlantico Pool Bar & Grill.
Accommodation
ROH Balcony 
Each of the beautifully appointed guest rooms feature fabulous panoramic views of the verdant tropical gardens. Bedding consists of 1 king or 2 double beds.
Balcony Ocean View
Each of the beautifully appointed guest rooms feature fabulous panoramic views of the Atlantic Ocean. Bedding consists of 1 king or 2 double beds.
1 King Bed Villa City View
"Romantic, roomy and remarkable", these are the words that best describe the one-bedroom suite at Condado Lagoon Villas. Picture the comfort of a perfectly designed living area coupled with the privacy of a gorgeous separate bedroom with a king-size bed and a bathroom fit for royalty.
1 King Bed/2 Queen Beds Villa Ocean View 
The Condado Lagoon Villas are situated in a privileged location in the middle of everything San Juan has to offer. The bustling nightlife of Old San Juan, Condado's glittering beaches and casinos, top-notch art museums, the performing arts center in Santurce's cultural hub and the new 113 acre Puerto Rico Convention Center are all just minutes away.  Bedding consists of 1 King bed or 2 Queen beds.
Cuisine
Il Giardino La Trattoria
Enjoy traditional northern Italian cuisine in the middle of the Caribbean at Il Giardina La Trattoria. Serving more than a dozen types of pasta, fresh antipasto prepared daily, seafood, and more than 150 wines from famous vineyards throughout the world, this San Juan restaurant is a must for any foodie.
Atlantico Pool Bar & Grill
Swim up, eat up and drink up at the Atlantico Pool  Bar & Grill. Enjoy casual dining with endless ocean views—while also enjoying music and entertainment provided by the Oasis Refreshment Center.
Morton's The Steakhouse
Every night is special at Morton's—San Juan's premier steakhouse. Offering an elegant setting that includes stunning ocean views through floor-to-ceiling window, Morton's features the finest in grain-fed beef shipped directly from Chicago. You can also choose from a wide range of delectable seafood entrees, vegetable dishes and irresistible desserts. And, to complement your dinner, an award-winning wine list is available for your selection.
Palmeras Restaurant
When it comes to San Juan restaurants, the place to go for breakfast is the Palmeras Restaurant. Eating a delectable breakfast while overlooking a crystal blue Atlantic Ocean. There's no better way to start your day.
Lemongrass Pan Asian Latino
For those with an adventuresome palate, it doesn't get any better than indulging in the Asian-fusion delicacies served daily at Lemongrass Pan Asian Latino. Choose from entrees ranging from ribs in hoisin-tamarind sauce to shrimp spring rolls with guava glaze. A little bit of Asia. A little bit of Puerto Rico. A whole lot of deliciousness!
Oasis Bar
Home of the original Piña Colada, the Oasis Bar features exotic drinks, light snacks and music. It's always 5 o'clock here!
Piña Colada Club
There's a vibrancy and excitement that's unique to Puerto Rico. And you'll find it at the Piña Colada Club. Come for dinner. Come for drinks. Come for the company. We'll be waiting.
In-Room Dining
Order from a wide selection of appetizers, entrees, desserts and drinks—all from the comfort of your luxurious San Juan accommodations.
Facilities
Swimming pool, video arcade, golf putting green.
You might also wanna check other Resorts and Hotels.