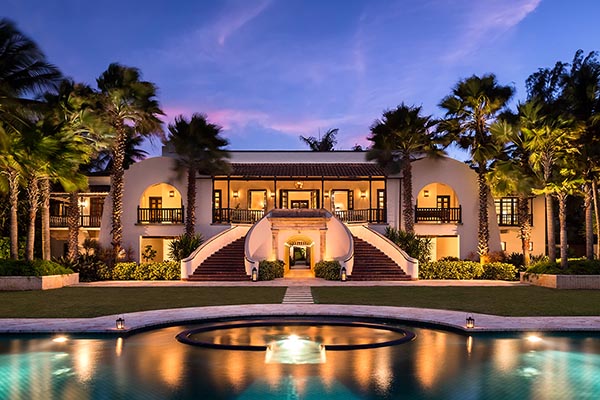 Description
Dorado Beach, A Ritz-Carlton Reserve
Situated on Puerto Rico's Caribbean coast yet worlds away from typical luxury beach resorts, Dorado Beach, a Ritz-Carlton Reserve is an intimate retreat offering a true sense of barefoot elegance. Blending Laurance Rockefeller's novel environmental design philosophies and modern, yet minimal décor, this Dorado Beach resort blurs the boundaries between outside and in, creating an open-air enclave that embraces the natural splendor and diverse culture of an unspoiled corner of the world. From the dedicated butler appointed to create an experience tailored to your needs, to the indulgent spas, dining experiences and adventurous recreational opportunities, Dorado Beach is a true luxury sanctuary designed to allure the world's most discerning travelers.
Essential Information
---
The Dorado Beach resort is located approximately 35 minutes from Isla Grande Airport
WiFi is available
Kids activities are available on-site
Highlights
---
Relax poolside with a cocktail in hand, and enjoy uninterrupted views of the Atlantic Ocean from your lounger
Tee off on the resort's golf course, which overlooks the ocean, providing a stunning backdrop to your game
Book yourself into the spa, where you'll be pampered with a host of relaxing treatments, all in the comfort of a private treatment room, or outside next to the ocean
Accommodation
Ocean Reserve
West Beach Ocean Reserve
Enjoy stunning views of the ocean from your West Beach Ocean Reserve room. A modern décor graces each of these rooms, with floor-to-ceiling sliding doors opening onto a spacious terrace.
East Beach Ocean Reserve
Similar to the West Beach Ocean Reserve rooms, this room category is equally as indulgent and peaceful, with a private terrace and soaking tub available for your enjoyment.
West Beach Reserve
Added space makes these West Beach Reserve rooms a wise choice. Floor-to-ceiling windows open onto a private terrace, where an outdoor shower is waiting for you.
East Beach Reserve
These oceanfront rooms contain all the same luxurious as their West Beach Reserve counterparts, including a private terrace and outdoor shower.
West Beach Plunge Reserve
An individual plunge pool makes each West Beach Plunge Reserve room a true gem. There is also an oversized outdoor terrace area for you to enjoy, which includes an outdoor shower.
East Beach Plunge Reserve
Enjoy your own individual infinity plunge pool when staying in one of these decadent East Beach Plunge Reserve rooms, with ocean views to keep you company.
Suites
West Beach One Bedroom
Both expansive and luxurious, these suites will please even the most discerning of travellers. Step out onto the beach from your private terrace, or take a dip in your personal pool – the choice is yours. Also available with two bedrooms.
East Beach One Bedroom
Overlooking the ocean, these decadent suites are ideal for families and romantic couples alike. Take a dip in your private pool or relax in the outdoor shower. Also available with two bedrooms.
Residences
Two Bedroom Residence
This oversized residence boasts both spectacular ocean views and direct access to the beach, so you don't have to waste a moment to go sunbathing. Each residence also features a spacious outdoor area and condo-style luxury quarters. Also available with 3 bedrooms.
Two Bedroom Residence with Den
Added space is what separates this room category from the rest. There is a separate den which includes a pull out sofa, perfect for families or groups travelling together.
Five Bedroom Villa
Perfect for families or groups of friends travelling together, the five bedroom villa has enough space for everyone. The villa spans over two storeys, with ocean views providing the perfect backdrop to your Caribbean getaway. There is seven bedrooms, plus direct access to the beach and infinity pool.
Su Casa
The ultimate accommodation at Dorado Beach, Su Casa is a sprawling unit that spans across 8000sqft, with five bedrooms and a separate maid's quarters. This regal Spanish-style hacienda is perfect for those who cannot settle for anything less than the best.
Cuisine
Mi Casa by Jose Andres
With internationally acclaimed Chef José Andrés, the Dorado Beach restaurant's culinary fine dining offering is a delectable blend of traditional cuisine, the vibrant flavors of Spain, and the savory flavors of American cooking.
Encanto Beach Club Bar and Grill
Encanto Beach Club Bar and Grill offers guests a unique open-air experience with a modern vibe, with freshly grilled fare for lunch and dinner right on Dorado Beach.
Positivo Sand Bar
The bar and adjacent seating at Positivo Sand Bar offers a trendy, but elegant atmosphere. Enjoy tapas, sushi, al fresco lunches and refreshing drinks while you rest your feet in the golden Puerto Rican sand.
La Cocina Gourmet
The market provides Puerto Rican coffees, homemade gelatos and gastronomic delights.
Facilities
Swimming pool, golf, tennis, kids activities
You might also wanna check other Resorts and Hotels.