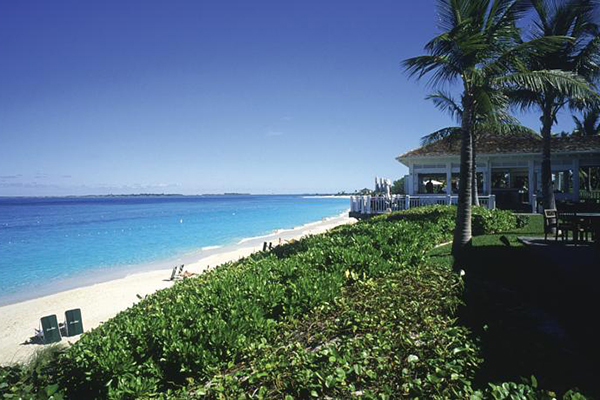 Description
One and Only Ocean Club
Under the deep blue of an endless Bahamian sky, wrapped in the turquoise waters of an exuberant sea, One&Only Ocean Club nestles peacefully along a shore of delicate white sand beach…a treasured sanctuary of privileged perfection.
Renowned for its legendary sophistication and contemporary elegance, the resort was once the private estate of A&P Heir Huntington Hartford II. Today, this alluring beachfront hideaway reflects the glamorous ambience and posh exclusivity of a grand colonial manor, welcoming generations of the world's travelling elite. Expansive manicured lawns and towering coconut palms provide an enchanting backdrop to the pristine beaches of Paradise Island.
Here, service is elevated to a fine art form by a gracious staff welcoming you into their colonial plantation home. Warm and inviting accommodation and residential-style villas are ideal for couples and families alike. The dining options at One&Only Ocean Club are renowned and unforgettable featuring the imaginative cuisine of Chef Jean-Georges Vongerichten.
One&Only Ocean Club is a playground of world-class golf, tennis, spa, and of course, water-sports. The spectacular blue waters of the Caribbean are the elixir of Bahamian life, explored with a rich roster of off-property activities, including diving, snorkelling, sailing, and wind-surfing.
Essential Information
---
Valet and self-parking is available at the hotel. Please note fees may be charged.
WiFi is available throughout the hotel.
A 24-hour butler service is available to guests.
There is satellite TV in all guest rooms.
Highlights
---
Enjoy a welcome beverage on arrival: it's the perfect way to begin your Caribbean holiday.
Get fit in the hotel's fitness centre. You'll leave feeling brand new!
Golf enthusiasts will surely love the hotel's on-site golf course, where you'll be able to hone your golfing skills.
Accommodation
Garden View
Garden view room has classic colonial architecture and causal plantation decor, exuding a warm and inviting ambience. Bedding consists of a king-sized bed.
Ocean View
With rich mahogany and cane furnishings inspired by those found in a Colonial plantation, and lovely views of the ocean, each room exudes a warm and inviting ambiance. The room also opens to a patio or balcony perfect for relaxing. Bedding consists of one king bed.
Beachfront Room
Refined yet casual charm defines the Luxury Beachfront Rooms. Each is adorned in contemporary island decor with King-size mahogany bed, hardwood floors, sisal rugs and fresh flowers to create a relaxing retreat. Louvered doors open to unparalleled views of the beach and ocean.
Luxury One-Bedroom Beachfront Suite
Designed in an elegant island décor, each suite features a King-size mahogany bed, desk, lounge chair, and a large parlour with living and dining areas. Louvered doors open to private terrace or balcony and the pristine stretches of sand, sea and sky beyond.
Cuisine
Courtyard Terrace
The historic Courtyard Terrace is considered one of the most elegant settings on Paradise Island, with a sparkling fountain, candle-lit reflecting pool and overhanging palms creating an elegant garden setting. Here you are welcome to dine under the stars on Mediterranean-influenced contemporary cuisine served on select evenings. The incomparable menu features unique selections such as Lobster and Lamb Carpaccio, Iberico Belotta Ham, Moroccan Veal, Roasted Eggplant with Polenta and Yellow Fin Tuna "Cannelloni" with Stone Crab. Dinner only.
Dune
Indulge your senses at Dune, a chic restaurant by internationally renowned restaurateur, Chef Jean-Georges Vongerichten. Perched atop a white sand beach amidst dramatic ocean views, Dune serves an innovative blend of French-Asian cuisine infused with local herbs and Bahamian influences, offering a truly unexpected dining experience.
Dune's British Colonial design was created by famed French interior designer Christian Liaigre, featuring a display kitchen and outdoor patios overlooking the beach. Cocktails, fine vintage wines and champagnes are also served throughout the day at Dune's adjacent beachfront bar.
Pool Terrace Café
For guests preferring to linger poolside, the Pool Terrace Café offers a delicious variety of local and international cuisine. As evening falls, the Pool Bar provides a casually relaxed atmosphere to enjoy cool tropical drinks, and a fine collection of rums.
The Library
Located in One&Only Ocean Club's stately reception hall, The Library exudes the warm, comfortable ambience of a Colonial plantation home. Cocktails, fine vintage wines and champagnes, gourmet pastries and Afternoon Tea are served along with lovely panoramic views of the ocean. Enjoy complimentary homemade bar snacks including popular favourites such as Candied Walnuts and Chips & Nuts made with casaba, plantain, tortilla, peanuts and raisins.
The Clubhouse
Overlooking the 9th and 18th holes of the Ocean Club Golf Course, with views of the ocean beyond, the Clubhouse is an inviting, casual dining venue. Enjoy an easy breakfast or a light lunch, either indoors or on the scenic patio. A full service bar prepares favourite libations as guests relax after a game or catch up on the latest sports news.
Facilities
Fitness centre, outdoor pool, on-site golf, tennis, spa, kids club, concierge.
You might also wanna check other Resorts and Hotels.