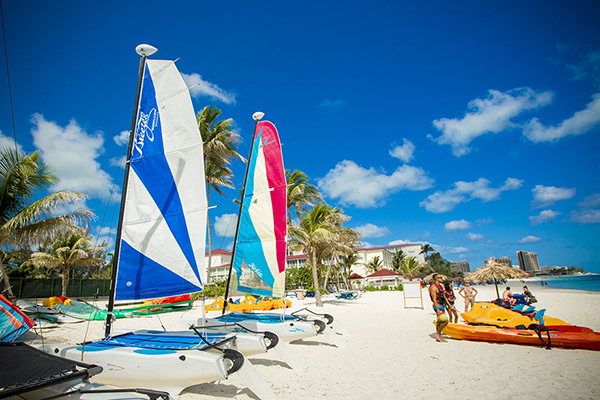 Description
Breezes Bahamas
Breezes Bahamas commands a pristine stretch of Nassau's best beach – the powder white sands of Cable Beach. And when you start with the best beach, everything else just falls into place.
A getaway like no other and the only Super-Inclusive resort to ever grace the magnificent shores of the Bahamas.
Essential Information
---
The Breezes Bahamas is located approximately 45 minutes from Grand Bahamas International Airport
WiFi is available
Family friendly
Highlights
---
If you've ever fancied rock climbing, you can do so at the Breezes Bahamas! Their rock climbing wall is perfect for beginners, and a great way to spend an afternoon
The resort's on-site spa is home to a variety of exotic treatments, including massages, facials and other decadent body rituals
Keep fit in the resort's fitness facility, which is furnished with modern gym equipment to aid your workout
Accommodation
Deluxe Garden View
Deluxe Garden View rooms are located in both towers and offer a variety of lush gardens and tropical island views. Select ground-floor rooms feature a furnished patio or hammock.
Deluxe Ocean View
Deluxe Ocean View rooms are located in both towers and offer views of the ocean and beachfront from the east and west facing tower rooms.
Deluxe Oceanfront
Deluxe Ocean Front rooms are located in both towers on floors two and up. These rooms offer breathtaking, unobstructed views of the ocean and beachfront from the north facing tower rooms.
Deluxe Beachfront
Our Deluxe Beachfront rooms feature a breathtaking view of the ocean and beachfront with direct access to the beach through sliding glass doors.
One Bedroom Ocean Front Suite
Deluxe One Bedroom Ocean Front Suites offer breathtaking, unobstructed views of the ocean and beachfront from the north facing tower rooms with separate living room.
Cuisine
Banana Boat
Enjoy breakfast, lunch and dinner buffet-style at the Banana Boat, the main air-conditioned dining room where you'll find your favorite dishes, local specialties and more.
Martino's
Martino's is a casually elegant, indoor (air-conditioned) restaurant serving traditional Italian dishes with an unmistakable island accent! Enjoy lasagna, linguine and all of your Italian favorites with a tropical twist.
Eden
Enjoy a relaxed dining experience at Eden – offering romantic banquettes for two indoors – or dine outdoors in the garden setting for a magical meal under the stars. Here you'll be tempted by specialties that include Adam's Rib and Eve's Secret. And you won't be able to say "no" to the sinfully delicious desserts such as Decadent Chocolate and Forbidden Pie.
Munasan
Munasan is the resort's newest restaurant serving Asian-fusion cuisine. Embark on a culinary journey into your favorite Asian dishes with a unique island flare. Munasan offers a casually elegant setting with both table and booth seating and a full bar.
Reggae Café
Quick snacks, burgers, fries and local favorites are sizzling throughout the day at the Beach Grill.
Facilities
Swimming pool, tennis, rock climbing, spa, water sports, fitness centre.
You might also wanna check other Resorts and Hotels.