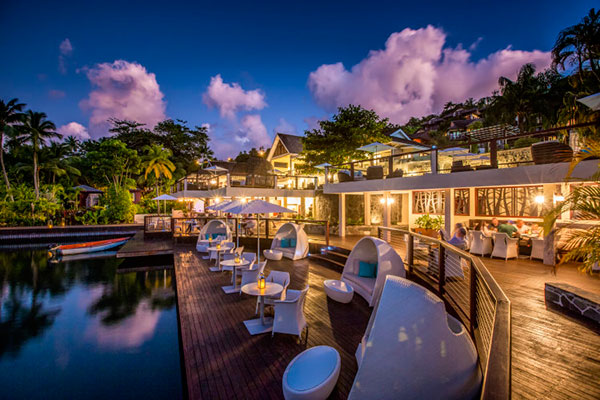 Description
Capella Marigot Bay Resort
Situated along the west coast of St Lucia, the Capella Marigot Bay Resort earns its namesake from the bay which it overlooks. The views are second to none at this luxurious resort, with mega yachts passing through the bay and clear waters reflecting the St Lucian sun.
Enjoy a delicious meal at one of the resort's dining venues, or indulge in a pampering session at the Auriga Spa, where you are sure to leave feeling renewed and refreshed.
At the end of a tiring day spent indulging, retire to your spacious accommodation which overlooks the marina.
Whatever your ideal Caribbean fantasy is, live it here.
Essential Information
---
Capella Marigot Bay Resort is located approximately 1 hour from Hewanorra International Airport
WiFi is available at the resort
There is a range of family friendly facilities at the resort
Highlights
---
The resort's Auriga Spa is a haven of bliss, offering various indulgent treatments to its guests. Whether you are seeking to unwind with a massage or reenergise with a body scrub, talented therapists are on hand to soothe you
A host of fitness classes are offered at the Capella Marigot Bay Resort, including private fitness sessions, yoga and other wellness activities, all overseen by professional instructors
You'll never suffer a dull moment at the resort, as a wide range of activities are offered, such as cooking lessons, sunset cruises and access to a nearby 18-hole golf course
Accommodation
Resort View Room
Enjoy uninterrupted views of the resort's tropical gardens and lush hillsides in these Resort View Rooms. Boasting an abundant 85sqm, there is plenty of living space to make use of. Each room enjoys a stylish and contemporary décor, blending Caribbean flourishes with modern appointments.
Resort View Suite
Similar to the standard Resort View Rooms, these One-Bedroom suites boast extra space, measuring at an impressive 125sqm. Each suite is comprised of a master bedroom, living room, open-plan kitchen and dining room. Two-bedroom suites are also available.
Bay View Room
Savour panoramic views of the yachts and water taxis which glide across the clear waters of Marigot Bay, all from the comfort of your Bay View Room. At 85sqm, there is plenty of space for you to unwind in. A modern décor, tempered by Caribbean flourishes, make these Bay View Rooms truly unique.
Bay View Suite
Expansive by nature, these Bay View Suites boast 125sqm of space and include a master bedroom, living room, open-plan kitchen and dining room. Stylish design sets these suites apart from the competition, making them some of the finest accommodation in St Lucia. Two and three-bedroom suites are also available.
Penthouse Suites
The ultimate accommodation at Marigot Bay, these Penthouse Suites boast unparalleled luxury. Each Penthouse spans over 295sqm and includes a master bedroom (complete with a four poster bed), a private hot tub and a fully equipped kitchen. The expansive living room affords spectacular views over the bay. Two and three-bedroom suites are also available.
Cuisine
Bayside Café
Open throughout the daytime and evening, the Bayside Café is the perfect place to relax and enjoy a light meal or drink.
Rum Cave
Open for lunch and dinner, the Rum Cave is inspired by the Caribbean Colonial-era rum distilleries. There is also a private dining room for parties and special occasions.
The Grill at 14⁰61⁰
Delicious grilled fare is served at this authentic venue. The chefs are on display, allowing diners to watch as their dinner is cooked to perfection, all whilst enjoying scenic surroundings.
Brut Bar and Pool Bar
Whether you fancy a cocktail by the pool or a light snack, look no further than the resort's resourceful and scenic bars.
Facilities
Spa, fitness facilities, swimming pool, yoga, resort activities
You might also wanna check other Resorts and Hotels.