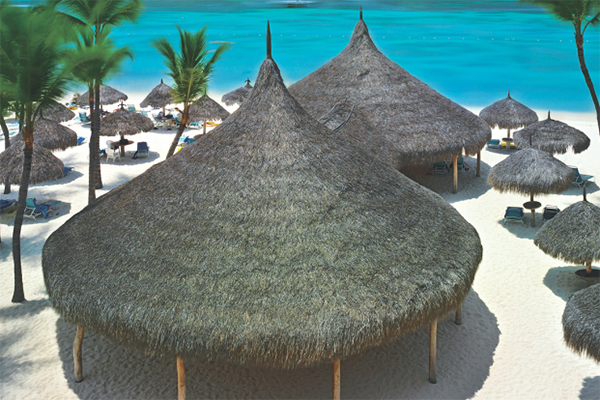 Description
Hyatt Regency Aruba Resort and Casino
From its sparkling beach to its vibrant casino, Hyatt Regency Aruba Resort and Casino is the island's premier retreat.
The resort offers an elegant yet casual vacation experience authentically capturing the Caribbean ambiance and the unique Dutch, Portuguese and Spanish heritage of the island.
This luxurious resort situated on Palm Beach has 360 guest rooms, six distinctive restaurants & bars offering breathtaking views of the Caribbean Sea, the exciting 11,400 sq. ft. Copacabana casino offering evening entertainment, European Spa and fitness centre and the Robert Trent Jones Jr. designed 18-hole championship golf course nearby.
Discover inner peace as you relax on the hotel's silky white sand beach, or as you give in to the nourishing treatments in the serene spa. Revive your sense of adventure with sailing, diving or tempting Lady Luck in the casino.
Select this luxury hotel in Aruba, and transform your island escape from expected to distinctly remarkable.
Essential Information
---
The Hyatt Regency Aruba Resort and Casino is located approximately 20 minutes from Aruba International Airport.
WiFi is available throughout the hotel.
24-hour room service is available in all rooms.
There is a wealth of fitness facilities on offer at the hotel for guests to enjoy.
Highlights
---
If you fancy working up a sweat then we recommend heading to the hotel's fitness centre, where state of the art gym equipment is stocked. There is also a basketball court and two floodlit tennis courts.
Or if you prefer the slow pace of life then simply book into the hotel spa. A team of spa professionals are on hand to completely de-stress you.
Sun loungers and towels can be provided as you relax by the hotel pool or beach, guaranteeing luxury.
Accommodation
Guest Rooms
Located on the 3rd floor, guest rooms offer rooftop views of the resort's open-air Spanish architecture, lush gardens and cascading waterfalls. Limited view. Bedding consists of 2 queen beds.
Garden View
Take in the intoxicating fragrance of lush foliage as you relax in the luxurious comfort of these newly remodeled Aruba accommodations. These spacious rooms offer a private step-out balcony, perfect for enjoying views of the tropical gardens and courtyard. Bedding consists of either 1 king or 2 queen beds.
Ocean Pool View
Let the hypnotic sounds of the ocean gently lull you to sleep each evening in the luxurious comfort of these newly remodeled Aruba accommodations. Situated on the upper floors of the resort, these spacious rooms offer a private step-out balcony, perfect for enjoying views of the ocean, three-level pool, lagoon and tropical gardens. Bedding consists of either 1 king or 2 queen beds.
Cuisine
Ruinas de Mar
Dine on exceptional cuisine among floating swans in our elegant signature restaurant.
Palms Restaurant
Indulge in fresh island flavors at Palms Restaurant – from martinis prepared tableside to fresh-from-the-sea fish.
Balashi Bar and Grill
Swim or walk up to the Balashi Bar for your favorite cocktail lunch or snack. Open daily 10:00 a.m. to 6:00 p.m.
Footprints Beach Grill
The sound of the waves breaking…the sweet smell of the Caribbean Sea…a starlit sky…and great tasting food. Open daily, 6:30 p.m. to 10:00 p.m.
Pampered in Paradise
Imagine having the beach all to yourselves…. With your own private butler, a perfect 4-course dinner under the stars, a torch lit atmosphere, barefoot elegance! Open daily at Sunset.
Sunset Service
Enjoy beautiful Aruba sunsets, gourmet hors d'oeuvres, fine wine, teak Adirondack furniture, and tuxedo service! Open daily 6:00 p.m. to midnight.
Dinner Sail
Sail along Aruba's scenic coastline and enjoy a spectacular view of the sunset, followed by a Caribbean buffet catered by our talented chefs. Open Thursday 6:00 p.m. to 9:00 p.m.
Hyatt Regency Casino Bar
Join in one of Aruba's best nightly parties, featuring live music, hand rolled cigars and exotic drinks.
Alfresco Bar
The Alfresco lobby bar specializes in premium wines by the glass and island favorites
Palms Beach Bar
At the Palms Beach Bar, we cook and pour late into the evening. Enjoy televised sports or simply sit back and relax on our island paradise.
Piet's Pier Bar
Join us at our Piet's Pier Bar for the best sunsets and our direct ocean views.
Mexicado
Mexicado is an intimate, friendly dining environment featuring a selection of regional dishes showcasing Mexico's most inspiring flavors.
Facilities
Swimming pool, fitness centre, basketball court, business centre, health club, concierge, spa.
You might also wanna check other Resorts and Hotels.