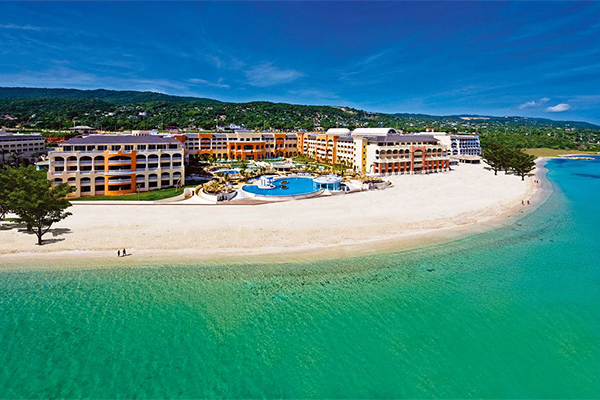 Description
Iberostar Rose Hall Suites All Inclusive
The Iberostar brand often conjures images of luxury and unrivalled hospitality, and the Rose Hall Suites resort is no exception. Settled on the beach, the resort shines like a beacon in the heart of Jamaica.
Boasting a range of wonderful amenities, including a PADI-certified Scuba Centre, spa and kids club, there is no shortage of things to do at the Rose Hall Suites resort. Afternoons can be spent lounging on the beach or getting stuck into an aquatic adventure, as you go on a diving excursion in the calm Caribbean Sea.
Experience unyielding comfort at the Rose Hall Suites resort, one of Jamaica's finest accommodations.
Essential Information
---
The Rose Hall Suites resort is located approximately 15 minutes from Sangster International Airport
WiFi is available
Childcare facilities are available
On-site medical services are provided
Highlights
---
Whether you are a beginner or pro, you will surely treasure an unforgettable experience at the resort's PADI-certified Scuba Centre. Learn how to use the equipment before taking to the calm waters, where you'll encounter Jamaica's tropical sealife
Allow yourself to be pampered at the resort's spa, staffed by talented spa therapists who will work the tension from your mind and body with a range of treatments, including massages and facials
Little ones are well catered for at the resort with Lucy's Kids Club, suitable for children aged 4-12. Organised activities will keep them entertained for hours, whilst you enjoy some peace and quiet
Accommodation
Junior Suite
These cheery rooms provide everything you need for a Jamaican getaway, including a private balcony or terrace, where you can enjoy views of the resort's beautifully landscaped gardens. A sitting area provides extra space and comfort.
Ocean View Junior Suite
Similar to the Junior Suite but with beautiful ocean vistas, these Ocean View Junior Suites are a delight to stay in. Each suite includes a private balcony or terrace, perfect for enjoying the scenery from.
Ocean Front Jr Suite
With added space and comfort, you'll no doubt find these Ocean Front Jr Suites more than adequate. Enjoy views over the ocean and resort's landscaped gardens from your private balcony or terrace, or chill out in your suite's sitting room.
Priority Location Ocean View Junior Suite
Located close to the beach and swimming pool, these suites are ideal for those who want to be near the action. Each suite comprises of either 2 double beds or 1 king sized bed, and boasts a private balcony which overlooks the sea.
Priority Location Junior Suite
These appealing rooms are surrounded by lush foliage and overlook the resort's landscaped gardens, which you can admire from your private balcony. Each suite is comprised of either 2 double beds or 1 king sized bed.
Cuisine
Calabash Gourmet Restaurant
This fine dining restaurant highlights a tasting menu of three plates and desserts from which to choose: shrimp and lobster salads, cream of asparagus, tournedos of beef, and chocolate cookie.
Maria Bonita Mexican Restaurant
This restaurant serves authentic Mexican cuisine, featuring a buffet of Aztec appetizers, salads and other delicious dishes. Tuck into a bowl of Mexican soup or feast on beef or pork tacos, all whilst enjoying the restaurant's lively atmosphere.
Miranda Hill Buffet Restaurant
Offering buffet-style breakfast, lunch, and dinner with the best hot and cold foods including international cuisine and specialized theme nights.
Mare Nostrum Mediterranean Restaurant
This top a la carte restaurant showcases fish and seafood along with an enticing salad bar with generous cheese selection and other hot and cold foods. Be sure to try the house specialty: lobster surf and turf.
Aunt Ruby Steak House
This deli-style restaurant features a wide array of quality salads, meats, and smoked fish. Aunt Ruby's appetizing menu includes entrées such as beef tenderloin, steaks, pork loin, spareribs, chicken, and the featured fish of the day.
Aunty Ruby Snack Bar
From 11:30 a.m. to 4:00 p.m. daily, Aunty Ruby Snack Bar's buffet is open for lunch serving up grilled meats and fish and long list of salads and accompaniments.
Facilities
Swimming pool, games room, scuba centre, swimming pool, kids club.
You might also wanna check other Resorts and Hotels.