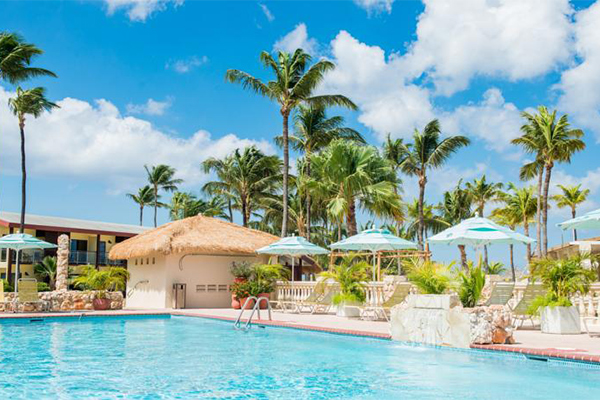 Description
Manchebo Beach Resort and Spa
Experience your own personal Caribbean paradise at this intimate, 2-story boutique resort located on the shores of majestic Eagle Beach, an ideal place for romantic and rejuvenating getaways. Simply relax beside the Caribbean Sea on a breathtaking stretch of beach savoring refreshing cocktails.
Start your day with beachside yoga; enjoy a healthy breakfast poolside; sip refreshing fruit cocktails on the beautiful shores of Eagle Beach and experience unique culinary creations in the evening.
Manchebo Beach Resort & Spa features three a-la-carte restaurants including the French Steakhouse, Ike's Bistro – Mediterranean & Caribbean and the casual beach-side Pega-Pega Café & Beach Bar.
Essential Information
---
The Manchebo Beach Resort and Spa is located approximately 15 minutes from Queen Beatrix International Airport
WiFi is available
The hotel is a Green Glove Certified Resort
A concierge service is available
Highlights
---
If you would like to combine relaxation with keeping fit then simply attend one of the hotel's yoga sessions. Taking place next to the beach, it's a great way to make the most of your surroundings whilst also looking after yourself
The hotel's spa is an indulgent haven where you can go to unwind. Select a pampering body ritual from the spa's treatment menu or pay a visit to the steam room and whirlpool
Savour a delicious meal in one of the hotel's restaurants, allow of which boast sumptuous cuisine. There is something here to satisfy every palette, from steaks to breakfast by the pool
Accommodation
Garden View Room
Embrace your Caribbean vacation in the newly-renovated Deluxe Garden View Room. A fresh island palate of warm furnishings complimented with cool and contemporary textiles will encourage you to shrug off the stress of the real world and ease into relaxation. Each Garden View Room features a private patio or balcony which overlooks the hotel's tropical gardens.
Ocean View Room
Enjoy resplendent views of the calm ocean from your private balcony or patio when you stay in one of these luxurious Ocean View Rooms. Each Ocean View Room boasts a range enviable amenities, including contemporary luxury bedding, add the extra indulgences to make your Caribbean vacation even more relaxing.
Ocean Front Room
Experience some of Aruba's finest accommodation when you stay in the Ocean Front Room. Awake each morning to sounds of the ocean, which you can view from your private patio or balcony, or unwind in your separate living room, which includes a 42-inch flat screen TV.
One Bedroom Suite
The beautifully appointed Deluxe One-Bedroom Suite offers a peaceful sense of space and comfort in a modern yet cosy ambiance. The serene setting offers attention to details and amenities, including contemporary luxury bedding to make your Caribbean vacation even more relaxing.
The contemporary and spacious living room features a comfortable sitting area including a sofa couch as well as a dining area with kitchenette. The Deluxe Bathroom with a relaxing, spa-like ambiance offers a rejuvenating experience with the rain/waterfall shower.
Cuisine
Ike's Bistro
Ike's Bistro boasts a delicious menu of the chef's specialties. While Mediterranean at heart, it is inspired by Caribbean ingredients and the chef's passion for avant-garde fusion ideas. Chef Ever De Peña composes beautiful dishes with subtle and complex flavors always over-delivering on taste and on presentation.
French Steakhouse
The French Steakhouse presents an innovative menu in a trendy and cosy ambiance serving fine South American cuts of beef, local delicacies and international favorites. Patrons can enjoy either indoor dining featuring live piano music as well as outdoor dining on the wooden deck right under the stars.
Pega-Pega
Head to the Pega-Pega café and beach bar for delectable fare, including sandwiches, salads and colourful cocktails.
Facilities
Swimming pool, spa, deli shop.
You might also wanna check other Resorts and Hotels.