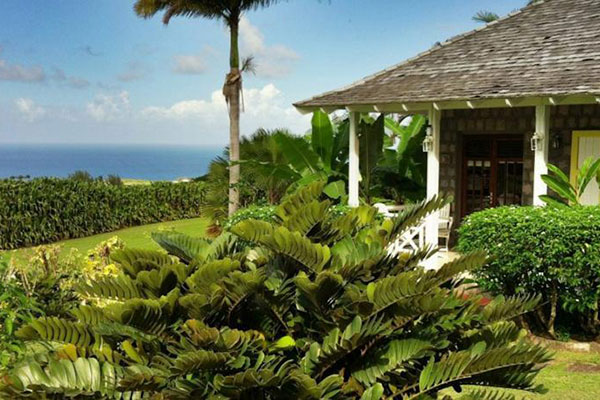 Description
Ottley's Plantation Inn
This charming and breezy hotel is sure to appeal to those who prefer the slower pace of life. After all, what could be better than enjoying cocktail after cocktail, breaking only to meander down to the spa?
At Ottley's Plantation Inn, this dream can be yours. Situated on the island of St. Kitts, this boutique hotel is home to tropical gardens, ocean views and a warm and hospitable staff who are all at your service.
Essential Information
---
Ottley's Plantation Inn is located approximately
WiFi is available
Conference centre on-site
Highlights
---
The hotel's 65ft spring-fed swimming pool is the perfect place to enjoy a refreshing dip, all whilst enjoying ocean views
Mango Orchard Spa, located at the hotel, offers a variety of decadent treatments, all designed to promote wellness
If you fancy a bite to eat, look no further than the resort's on-site restaurant, which offers all manner of gourmet cuisine
Accommodation
Standard
Cosy in size and nature, these Standard Rooms come complete with garden or ocean views, making them perfect for romantic couples. Each Standard room features a queen sized bed and en suite bathroom.
Deluxe
Each uniquely decorated Deluxe room oozes intimacy, with views overlooking either the resort's gardens or glimmering ocean. These airy rooms feature either one king sized bed or two queens as well as an en suite bathroom.
Supreme
The next level in luxury, each Supreme room is home to a private ocean-view patio which boasts a plunge pool and Jacuzzi. Colonial-style furniture adds a certain Caribbean charm to each room, along with an Italian-tiled en suite.
Royal Suite Cottage
Ideal for families and groups of friends travelling together, the Royal Suite Cottage features two bedrooms and a separate sitting area, providing plenty of space for everyone. The master bedroom features one king or queen sized bed, whilst the adjoining bedroom features one king sized bed or two twins.
Grand Villa
Comprised of two Supreme Rooms, these Grand Villas are both expansive and luxurious, with two bedrooms providing plenty of space for guests.
Cuisine
Royal Palm Restaurant
Nestled in the walls of the plantation's sugar factory and offering spectacular views of our property, the Royal Palm Restaurant is the destination of choice for both locals and visitors seeking St. Kitts' most satisfying cuisine.
Facilities
Swimming pool, spa
You might also wanna check other Resorts and Hotels.