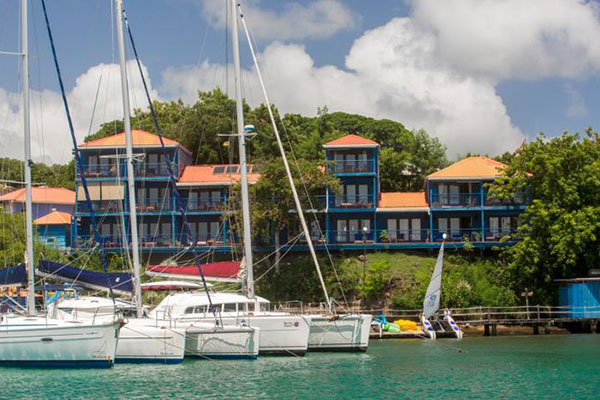 Description
True Blue Bay
True Blue Bay is a family-owned and run boutique hotel located in Grenada. Located on the south coast, this colourful resort is set amidst tropical gardens and boasts spectacular views over True Blue Bay.
Experience the hotel's fun-loving restaurant, spa and dive centre, as well as a range of on-site activities that will ensure you never suffer a dull moment.
Warm and welcoming staff are on hand to make sure your Grenadian vacation comes off without a hitch.
Essential Information
---
True Blue Bay is located approximately 5 minutes from Maurice Bishop International Airport
WiFi is available
24-hour front desk
Highlights
---
A PADI-certified dive shop and snorkel centre provides you with the perfect opportunity to explore the nearby coral reefs and crystal clear waters
The Blue Haven Spa offers a wonderful selection of treatments, from massages to facials, designed to make you feel your best self
Enjoy a relaxing yoga class with the hotel's tropical surroundings providing the perfect backdrop to your lessons
Accommodation
Rooms
These simple yet elegant True Blue rooms, located next to the Bay View Pool, include a charming terrace overlooking the gardens and the bay. The teak furnishings and simple colors create a very natural and peaceful relaxing space to retire after a day of fun. Choose from either a king size bed or two twins, and enjoy a fully equipped kitchenette, fans, a/c bedroom, phone and cable TV. True Blue Rooms are perfect for families with small children since the playground, pool and garden are seconds away from your doorstep.
Suites
Incredibly romantic and private, each room features its own tower equipped with 2 lounge chairs and a magnificent 360 panoramic view of True Blue Bay. The oversized balconies provide an ideal setting to watch a sunset or gaze upon the aquamarine waters of the Caribbean Sea. Tasteful tropical wood and palm furnishings, huge bathroom with shower and whirlpool bathtub, comfy 4 poster king bed, overstuffed couch and dining suite are quite lavish. Great for honeymooners or romantic getaways.
Villas
These 2-bedroom villas boast an infinity pool overlooking the marina, and come furnished with a king sized bed or two double beds. Upstairs accommodations also feature spacious dining and living room areas, plus a plunge pool and spacious veranda.
Cuisine
Dodgy Dock
Whether you fancy a plate of pancakes or a tropical cocktail, look no further than the Dodgy Dock, open for breakfast, lunch and dinner. Live music will keep you entertained as you dine on delicious fare amidst tropical surroundings.
Facilities
Swimming pool, spa, gym, water sports, kids activities.
You might also wanna check other Resorts and Hotels.