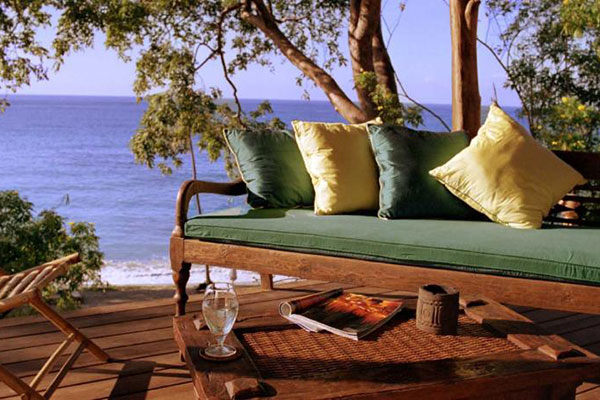 Description
Laluna Grenada
For the past 14 years, Laluna Resort has set the benchmark for luxury hotels in the Caribbean. Nestled into a private hillside on one of Grenada's most secluded beaches, Laluna is an escape to a private paradise. With tastefully appointed cottage suites, authentic Asian Spa, beachfront yoga pavilion, and thatched roof Italian restaurant, this beach chic boutique resort is the most romantic in Grenada.
A favorite of lovebirds desiring an intimate, romantic Caribbean escape, Laluna is frequented by honeymooners, couples celebrating an anniversary or special occasion, and those hosting a destination wedding.
Essential Information
---
Laluna Grenada is located approximately 5 minutes from Maurice Bishop International Airport
WiFi is available
A concierge service is available
Highlights
---
With Asian influences, Laluna's spa provides premium services including facials, pedicures and massages, all designed to pamper you
The yoga pavilion is the perfect place to practice yoga or pilates, with the sound of the ocean to help soothe you along the way
There's plenty to help keep you occupied at Laluna, including an on-site library, water sports equipment hire and a fitness centre
Accommodation
Cottage Suite
These romantic, semi-detached cottages perfectly marry seclusion and ease-of-accessibility. The Caribbean chic Cottage Suites feature a breezy, open-plan design with a generously sized and tastefully appointed bedroom. After a day spent at the beach and exploring Grenada, you will love relaxing on the comfortable king sized Balinese four-poster bed with crisp Italian linens. French doors open onto a private veranda with a Balinese day bed, carved wooden furniture, and private plunge pool.
Cottage Deluxe
Located on the hillside above the stunning Caribbean Sea, these free-standing boho-chic cottages are among the most private on the resort's property. However, beach access is still easy, with only 30 steps separating your Cottage Deluxe from our beautiful white sand beach. The Cottage Deluxes are especially romantic; in the evening, you will enjoy sitting on your private veranda, listening to the waves on the beach, sharing a bottle of bubbly, and watching the sun set over the sea.
Beach Cottage Deluxe
The Beach Cottage Deluxe is Laluna Resort's most private, intimate offering. The free-standing cottage is one-of-a-kind, as it is the only of Laluna's accommodations to be located directly on the beach. Inspired by our travels to Bali, Italy, and around the Caribbean, the cottage's interior features rich colors, built-in lounging areas, vaulted wooden ceilings, and a minimalist design that highlights the masterpiece of the open-style cottage: the ethereal carved wood Balinese king sized bed.
Two Bedroom Cottage
Laluna's Two Bedroom Cottages are made with Caribbean group travel in mind. The attached cottage features two side-by-side individual suites, each of which has its own bedroom, bathroom, and plunge pool, allowing for couples to have private time with their partner. Located on Laluna's Grenada hillside, the Two Bedroom Cottage provides a dramatic view of the Caribbean Sea from its shared veranda. Open the veranda's privacy curtain to enjoy group time together, or close it for a more intimate feeling.
The Villas
The newly constructed luxury villas at Laluna Estate are a perfect complement to the adjacent hotel property of Laluna Resort. Building upon the serene luxury, tasteful styling, and Caribbean chic atmosphere Laluna is known for, the villas are everything you have come to expect from Laluna Grenada, with a twist. The spacious 5-bedroom villas are designed for families, groups, or those who plan to entertain in Grenada.
Cuisine
Laluna Grenada Restaurant & Lounge
Laluna's restaurant creates the perfect ambiance for a romantic, relaxed evening in Grenada. Seating only 36 diners and allowing no children under the age of 12, the restaurant has a subdued, intimate vibe. The thatched-roof, alfresco dining room opens directly onto Laluna's sandy white beach, giving guests an unobstructed, peaceful view of the bay. Candlelit tables, lanterns placed throughout the room, and warm, low overhead lighting add to the atmosphere.
Facilities
Swimming pool, spa, yoga, gym, water sports equipment.
You might also wanna check other Resorts and Hotels.