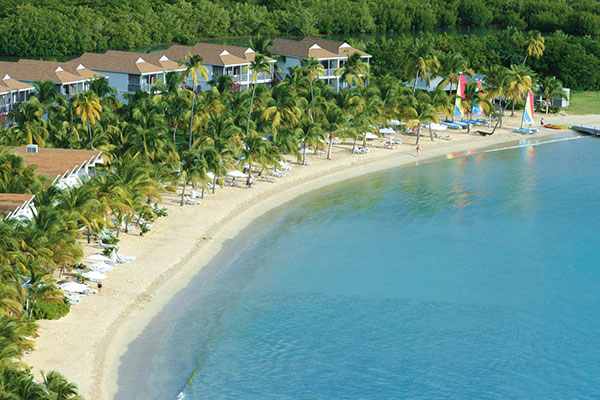 Description
Carlisle Bay, Antigua
Situated on the southern coasts of Antigua, Carlisle Bay is a Caribbean gem waiting to be discovered. Boasting luxury suites, three sumptuous restaurants and decadent wellness facilities, it's no wonder why Carlisle Bay is considered one of Antigua's leading hotels.
Days can be spent luxuriating by the swimming pool, where the resort's Ottimo! restaurant is located, ensuring you don't have to roam far for good food, or taking a relaxing stroll along the spotless beach. There is a wealth of facilities on offer at Carlisle Bay, including a spa, tennis court and water sports activities, guaranteeing any and every guest at the resort never suffers a dull moment.
With Antigua's famous sites all within reach, Carlisle Bay is a wise choice for the discerning traveller.
Essential Information
---
WiFi is available at the hotel
Carlisle Bay is located approximately 30 minutes from V.C Bird International Airport
Afternoon tea is served daily at the hotel
Parking is available
Highlights
---
A range of activities can be organized at the hotel, including banana boating, sailing, cycling and diving
Carlisle Bay is situated close to Antigua's best sights and sounds, including Shirley Heights, Jolly Harbour and Nelson's Dockyard
Children are well catered for at the hotel, with a children's playground and kids club to call their own
Accommodation
Garden Suites
These spacious, split-level rooms guarantee tranquillity. Boasting views of the resort's lush gardens, each room enjoys an open-plan bedroom and sitting room, and is furnished with a decadent king sized bed. Two pairs of Garden Suites interconnect, making them ideal for families and groups travelling together.
Ocean Suites
Enjoy uninterrupted views of the ocean from your luxurious Ocean Suite. Each Ocean Suite is split-level and boasts an open-plan sitting room and bedroom, providing plenty of space for guests. Ocean Suites are also interconnecting.
Beach Suites
Beach Balcony Suites are upper-level suites with a second bedroom with twin beds, making the rooms appropriate for two adults and two children (aged from 6 to 15), with cribs available for babies. The balcony of the master bedroom looks towards the beach.
Beach Terrace Suite rooms are positioned on the ground level to provide direct beach access. The configuration is the same as the Beach Balcony Suites – with a second twin bedroom accommodating children up to the age of 15 (cribs are available for babies). The ease of stepping out on to the sand is what makes these rooms stand out.
Carlisle Suites
Undoubtedly the finest suites in the hotel, the Carlisle Suites are large, indulgent and furnished to perfection. Perfect for large families or groups, each Carlisle Suite boasts a large sitting room, kitchen and a double-width beachfront balcony.
The privacy offered in these spectacular suites is what makes them such a hit with families and groups alike.
Cuisine
Indigo on the Beach
Indigo on the Beach restaurant is the relaxed heart of Carlisle Bay. Sea breezes fill the open-sided room and terrace. Tables are spread out over a wooden floor on which bare feet are welcome, at any time of day. Dishes tend toward the fresh and healthy – grilled seafood, salads, home-made breads and pastas – while children can enjoy the flexible menus designed just for them. A beach barbecue is served here once a week.
East
Japanese, Thai, and Indonesian dishes all appear on the menu, with sushi, sashimi and Balinese specialties among the main draws. Please note those with young children under the age of 6 are asked to come earlier, from 6.30pm to 8pm.
Ottimo!
From the authentic wood-burning pizza oven emerges classic dishes using the freshest of Italian ingredients. Salads, antipasti and homemade gelato make this a destination at the midday sunshine hour – and with a Little Ottimo! menu for children, is enduringly popular with families (an early children's tea takes place here from 5pm to 6.30pm daily).
Facilities
Spa, tennis courts, yoga, gym, WiFi, 24-hour reception, currency exchange, laundry service, medical service.
You might also wanna check other Resorts and Hotels.