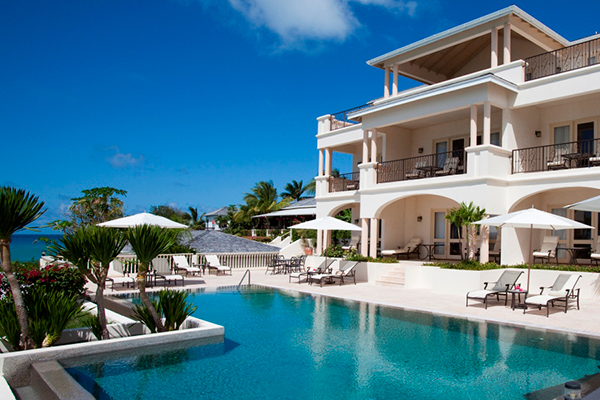 Description
The Cove Suites at Blue Waters
Considered some of the finest luxury accommodation in the Caribbean, the Cove Suites at Blue Waters are a true haven of decadence for you to unwind in.
The Cove Suites are the pride and joy of Blue Waters Resort & Spa, providing guests with endless hours of relaxation. Boasting uninterrupted views of the Caribbean Sea, you can't help but feel yourself de-stress as you step foot into your spacious suite or penthouse.
When staying in a Cove Suite you will have all of the resort's usual facilities at your disposal, including complimentary water sports and endless dining options, as well as having an exclusive concierge service. So, whether you need to book dinner reservations or arrange a day trip, your dedicated concierge will be on hand to assist your every need.
Essential Information
---
The Cove Suites at Blue Waters are located approximately 15 minutes from VC Bird International Airport.
Complimentary WiFi is available in all accommodations.
All rooms are air-conditioned.
Each room contains a 27-32" flat screen TV.
Highlights
---
Dive into the infinity pool reserved solely for the pleasure of Cove Suite guests, and savour the beautiful Caribbean Sea views on the horizon. There's no better way to cool off!
Take advantage of the personal Concierge Service available exclusively for Cove Suite guests. Whether you'd like a private dining experience organized or a spa session booked, your concierge will be more than happy to help.
The Cove Suites are set apart from the main resort, ensuring a wealth of privacy for all Cove Suite guests.
Accommodation
Cove Suites
Each Cove Suite boasts a generous living area which leads onto your decadent bedroom, resulting in a landscape of abundant space and luxury. You'll be able to spend your vacation slouched in front of the flat screen television or on your private balcony, which overlooks the glimmering Caribbean Sea. However you choose to spend your time there, your Cove Suite accommodation guarantees the perfect Caribbean getaway.
Cove Penthouses
Enjoy elevated luxury in your Cove Penthouse. Situated on top of the Cove Suites, each Penthouse towers above the Caribbean Sea, providing endless views of the sparkling ocean and picturesque beaches. Each Cove Penthouse is comprised of a sprawling living room, dining area, kitchen and 3 bedrooms, affording families and groups an abundance of space and opulence.
Bars & Dining
Palm Restaurant
Surrounded by the resort's lavishly landscaped gardens and overlooking the Caribbean Sea, the Palm Restaurant offers its guests a decidedly Caribbean al fresco dining experience.
During the day the Palm Restaurant oozes a relaxed Caribbean café atmosphere, perfect for those who want to get their day off to a brilliant start. Enjoy breakfast on the terrace adjacent to the restaurant as the sun shines down.
As night falls the Palm Restaurant takes on a more refined feel, bestowing the restaurant with a sophisticated atmosphere as you dine under a star speckled sky.
Bartley's
Bartleys Restaurant is one of the only restaurants in Antigua that offers comfortable, air-conditioned dining in an intimate setting. Situated within the main hotel complex, the elegantly appointed Bartleys Restaurant offers the perfect opportunity for guests to share a romantic dinner, celebrate a special occasion or simply enjoy an evening of delectable entrees, fine wines, and great company.
The Cove Restaurant
Uniquely situated on a cliff top, the Cove Restaurant combines Caribbean and French cuisine with flair.
As guests arrive at the Cove Restaurant, they will be greeted by flaming torches and a dramatic entrance leading onto a candlelit hall. Once inside, it won't take long for guests to become mesmerised by breath-taking views of the Caribbean Sea.
Beach Bar
The Beach Bar is a rustic alternative to some of the other venues at Blue Waters, and is always a hit with guests.
Stocked with a fantastic selection of cocktails, you will be able to enjoy delicious drinks from the comfort of your sun lounger as the Caribbean Sea lulls you into serenity.
Veronica's Bar
The bar is a firm favourite with guests who use it as a place to congregate with family and friends. The Manager's Cocktail Party is also held here, where Joe and Caroline will have their locally concocted specialities on standby for you!
Facilities
Concierge Service
Live like royalty in your Cove Suite, with your every need attended to by your bespoke concierge service. No matter how big or small your request, your concierge will endeavour to fulfil it, ensuring that your time in Antigua is as perfect as can be.
Other Facilities
Complimentary water sports, Pelican Bar, spa, gym, concierge service, swimming pools, tennis court, children's activities, nightly entertainment, nearby golf, babysitting facilities, tour desk.
You might also wanna check other Resorts and Hotels.