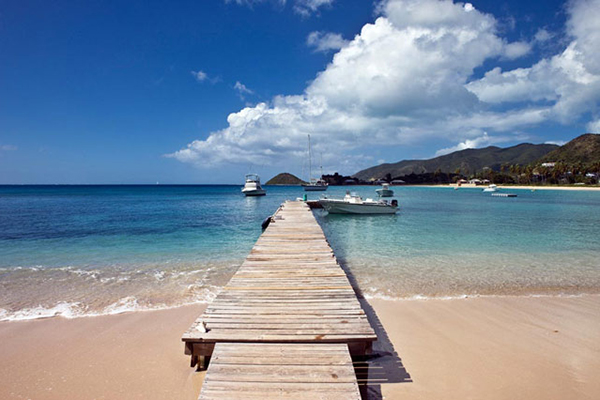 Description
Curtain Bluff Resort
Many resorts have extraordinary facilities, while others are small and personable. Some are sophisticated; others are casual and relaxing. Some are luxurious; others offer outstanding value. The rarest find of all is the resort that combines all these qualities. Curtain Bluff, consistently ranked among the finest resorts in the world.
72 rooms and suites, all with staggering seascape views, are spread out along the Surf Beach and up the bluff. There are two restaurants: the open-walled Tamarind Tree serving breakfasts and candle-lit dinners, and the Beach Cafe and Bar, where barefoot-casual lunches are enjoyed one step from the sand and a few feet from the water's edge.
Essential Information
---
Curtain Bluff Resort is located approximately 30 minutes from VC Bird International Airport.
WiFi is available.
Children's facilities are available.
Each guestroom contains an in-room safe.
Highlights
---
The resort boasts multiple tennis courts, all of them overlooking the Caribbean Sea. Tennis programs can be arranged, where you'll be coached by some of the finest tennis players.
Unwind in the hotel's spa, which is equipped with a comprehensive list of decadent treatments, including massages, facials and body wraps.
Various water sports can be enjoyed at the resort, from scuba diving to deep-sea fishing, with equipment provided for you.
Accommodation
Deluxe Rooms – 360 sq. ft.
These rooms feature one king bed (can be converted to 2 twins), a sofa bed and an ocean front view. Each room is decorated in a colorful West-Indian style, with contemporary dark-wood furniture, white bedcovers and colorful accents that evoke the colors of the sea.
Junior Suites – 816 sq. ft.
40 Junior Suites are spread through three-story villas right on the resort's Surf Beach, just a stone's throw from the water. All have separate bedrooms with one king bed (can be converted to 2 twins). Every room has sunken living rooms with elegant sea-grass sofas and armchairs, accented with rich blues and greens that mirror the colors outside. Floor-to-ceiling glass doors lead on to verandahs and terraces looking out over the sea, palms and lushly forested shoreline.
Cuisine
The Tamarind Tree
Open-walled in the traditional plantation style, the hotel's main restaurant looks out over a terrace canopied by the spreading limbs of a majestic tamarind tree.
The Sea Grape
At lunchtime, guests filter in from the beach wearing T-shirts and beach cover-ups to enjoy lunch buffets (including the weekly beach-barbeque lunch accompanied by a live steel-drum band). At night, open 4 or 5 times per week (based on time of the season), the Sea Grape becomes a second dinner venue. Limited to just 40 guests per night, it serves delicious Italian/Antiguan influenced cuisine as tiki torches flicker on the sand and the sea is streaked by moonlight.
Wine Cellar
For those aficionados looking for a truly special wine, Curtain Bluff keeps one of the finest cellars in the Caribbean, stocked with over 25,000 bottles priced between $US 50 and $US 2,000.
Facilities
Water sports, tennis, children's activities, spa.
You might also wanna check other Resorts and Hotels.