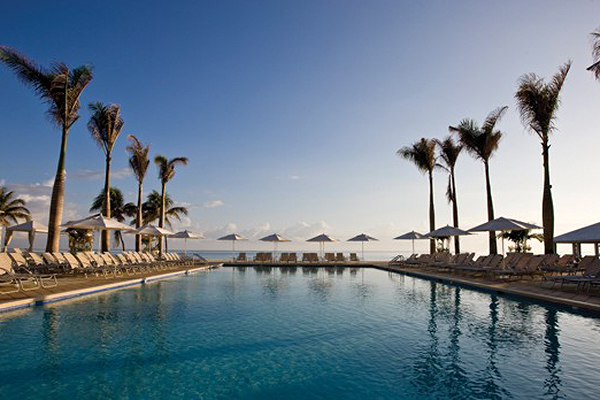 Description
Hilton Rose Hall Resort and Spa
Nestled between the scenic Jamaican mountains and turquoise Caribbean waters, Rose Hall Resort and Spa truly inhabits a more exclusive ocean-front location than other Montego Bay Jamaica resorts.
This deluxe beachfront hotel, once a legendary 18th-century sugar plantation, evokes the historic charm and hospitality made famous by the island. Indulge in cool ocean breezes, a private beach, one of the Caribbean's largest water park, a championship golf course, and the relaxing services of Soothe Spa.
Essential Information
---
The Hilton Rose Hall Resort and Spa is located approximately 10 minutes from Montego Bay Airport.
Self and valet parking is available at the hotel.
WiFi is present at the hotel, but please note charges may apply.
The Hilton Rose Hall Resort and Spa enjoys its own private beach.
Highlights
---
Visit the hotel's Soothe Spa and prepare to be indulged with a host of exotic treatments, designed to rejuvenate you completely.
Children won't suffer a moment of boredom once they arrive at the Sugar Mill Falls Water Park, an aquatic landscape that won't fail to bring a smile to anyone's face.
The hotel's modern fitness centre is ideal for those guests who like to keep fit whilst on holiday.
Accommodation
Resort View
Located on both the West and East wing overlooking the resort interior courtyard or grounds. New tropical chic decor in a cool neutral palette of white, taupe and espresso. Textured whitewashed walls, white tiled flooring and elegant furnishings made of dark tropical hardwoods. Bedding consists of either one king bed or two queen beds.
Partial Ocean View
These airy accommodations are complete with a private balcony, artfully showcasing the resort's surroundings, including the world-class Cinnamon Hill Golf Course or the majestic Jamaican Blue Mountains.  Take pleasure in a cosy, fashionable sitting area.  Bedding consists of either one king bed or two queen beds.
Cuisine
Fresh
Enjoy delicious breakfast, lunch and dinner at our marketplace with action stations, overlooking the glistening Caribbean Sea. Offering a variety of cuisines in a casual atmosphere, meals at Fresh are occasions to be remembered. Delight in dining with the entire family or with a special someone with no reservation required. Nightly live entertainment accompanied by pleasing features for all diners.
Luna Di Mare
Indulge in sumptuous Northern Italian cuisine accompanied by an extensive wine list at Luna Di Mare. Enjoy the intimate atmosphere while you sip a marvellously smooth vintage. Sample delicious dishes artfully created with the freshest ingredients by Executive Chef Michael Dannecker. Take pleasure in an unforgettable dining experience with delightful features.
Three Palms Restaurant
Spend the evening enjoying fine dining at Three Palms Restaurant. With stunning views of the golf course, this exceptional eatery offers an ideal setting to enjoy an intimate meal for two, or a special occasion with the entire family. Sample from a menu offering delicious items innovatively created by Executive Chef Michael Dannecker. Delight in a dining experience sure to become an affair to remember.
Seaside Bar & Grille
Soak in refreshing offshore breezes and spectacular views of crystal-blue Caribbean Sea, while dining on delicious Caribbean-inspired cuisine. Located next to the oceanfront Main Pool, this laid-back restaurant serves lunch only. Come as you are in beach attire and sample the signature cocktails in a relaxed, beachfront atmosphere.
Mangoes
While spending the day at Sugar Mill Falls Water Park, satisfy your hunger – and thirst! – at the delightful outdoor lunch spot Mangoes. Featuring a menu of salads, burgers, and sandwiches, this casual spot offers tasty dishes with a delicious Jamaican influence and tropical drink favorites.
Facilities
Fitness centre, kids' activities, swimming pool.
You might also wanna check other Resorts and Hotels.